The free 28 days trial of the Master's Toolkit is now out,
Now everyone can try out the Master's Toolkit and both the Fantasy and Sci-fi Essentials packs before purchasing.
Follow these easy steps to get you started :
Install your launcher from the downloaded file
Open up the Arkenforge category on the right side of the launcher, and click on the UP arrows to install your content packs.
Click on the Master's Toolkit logo to start your trial (like the image below)
Alternatively you can request support via email : nathan@arkenforge.com or submit a ticket here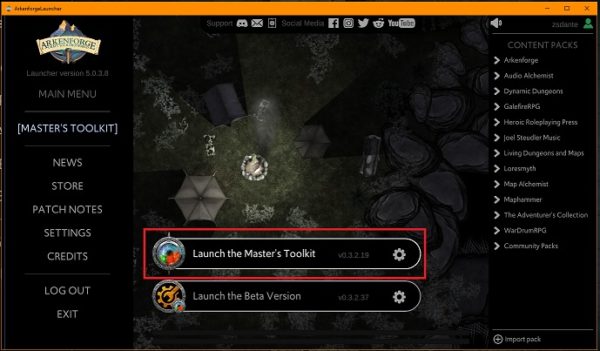 Minimum system requirements :
Mac : 2015+
Processor : Dual-core processor (64bit architecture)
GPU : Dedicated, possibly gaming capable graphics card : Nvidia GTX 700 series and up / AMD Radeon R7 series and up
RAM : 4GB
With these specs try to make smaller map sections instead of one large map, and use animations/dynamic lighting sparingly in the Cartographer module.
OS : Windows 7, Windows 8, Windows 10, MAC OS
Recommended system specs :
Mac : 2018
Processor : Quad-core processor (64bit architecture)
GPU : GTX 900 series and up / AMD Radeon R9 series and up
RAM : 8GB
OS : Windows 7, Windows 8, Windows 10, MAC OS