Hello again!
With another week we have more to share about what is happening behind the scenes with us, starting with our Masters Toolkit software.
We have made a number of updates and reiterations of the Software since we started the Alpha based on feedback we had on glitches and additional features. We want to continue this flow of updates as we gear closer towards the Beta and so we begun constructing a software specific launcher and updater for future patches.
This launcher should be up and running within the week making it no longer necessary to re-download newer versions of the software as we introduce essential changes and content updates.
A new Forum has opened up in our Community section titled "Display Window," there you can discuss anything related to how the software is presented on whatever device you are using it on. We have made an initial post on said forum discussing the most recent update to the Masters Toolkit which focuses on the display (Masters Toolkit v0.1.1.0 Update).
If you have questions or thoughts about this update or how the Software is displayed on your computer in general, feel free to ask or discuss there.
We are expanding our essentials content for the Masters Toolkit, as we have outlined in previous updates, so we would love to hear what content you'd like added to the Cartographer, Soundscape or even the Scenario module. You can email us at info@arkenforge.com with any suggestion for maybe tiles, terrain, sounds, music or any other content you think may be important, any ideas are more than welcome!
This week we will start sharing some of the awesome stuff people are making on the Cartographer, so without further adieu I would like to introduce Scott's spooky cottage!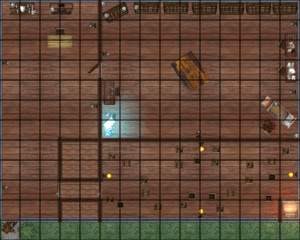 We particularly enjoyed Scott's use of the blue light in the library room on the desk, very ominous!
Feel welcome to post your maps and ideas for the Cartographer in our Forums or continue to submit your maps and creations to our email ( info@arkenforge.com ) and we'll share them with everyone else.
The Arkenforge team