Fantasy starter pack includes the Master's Toolkit software and the Fantasy Essentials pack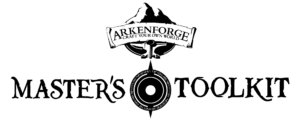 The Master's Toolkit software
Map maker, audio and campaign management tool for tabletop RPG-s
* Purchase of this product unlocks the Master's Toolkit for your registered account within the Arkenforge Launcher.
Note: The Masters Toolkit cannot run without the Arkenforge Launcher and is currently available for PC (64bit) and MAC!

With accessibility and ease of use in mind, the Masters Toolkit is a strong foundation to build any fantasy tabletop RPG.

What to expect:
A versatile and feature rich digital map and dungeon creator in the Cartographer
Map export options in both PNG and PDF formats
Expansive music and ambient effects library with a one touch and leave it approach in the Soundscape
Dual screen support for flexible use and utility
Access to all content offline once downloaded
Free access to all future Masters Toolkit updates
No subscription fees! Buy it once, own it forever!
Access to community made maps for free
Ability to import create and import custom content packs
Support for video maps (like Dynamic Dungeons)
The Master's toolkit is currently in version 0.4. Features are still being developed and added, so please check for updates frequently.
Current modules :
Cartographer – Map building
"Complete your quest for a feature-rich and easy to use map and dungeon maker with the Cartographer."
Current Features:
Included Essentials pack with commercial rights:

Hundreds of original tiles and objects
Animated assets
Enough material for any fantasy-themed adventure

100% compatible with Dynamic Dungeons, multiple videos can be placed in the same scene
Free asset import options for any media (images/videos/animations)
Independent marketplace for purchasing/selling content
Lighting and shadow system for all objects
Exporting and printing options for all maps or dungeons in PNG and PDF
Easy export options with presets for Roll20/Fantasy grounds/D20Pro and more!
Square/Hex/Isometric grid support
Ambient lighting with a time of day slider (you can switch any maps between day/nighttime)
Infinite map size (limited only by hardware)
An unprecedented sense of scale
Intuitive controls
Soundscapes – Ambience
"End the grueling task of finding atmospheric music, ambience and sounds effects for your fantasy adventure with the Soundscape."
Current Features:
Included Essentials pack with streaming rights:

Over 30 original music composition
Individual instrument control for each song
Hundreds of ambience loops
Thousands of sound effects

Quick edit options for adding new sounds
Individual volume controls for music and sound effects
Custom panning
Easy import of media
Sound builder – Customise environments for your own campaign
Audio can be attached to maps/parts of maps you build with Cartographer
Encyclopedia – For Campaign management

"Tell your stories cohesively, remember that barkeeps name you made up 15 minutes ago by entering a quick note!"
Current Features:
Create notes
Build quests
Link notes onto maps
Link notes to each other in a Wikipedia style fashion (dynamic content linking)
The Fantasy Essentials pack
Theme
Original Arkenforge content pack – a strong base pack containing all the assets required to run a core fantasy adventure.
The core pack – Fantasy Essentials
Content
When it comes to our assets this is a huge pack:
500+ place-able objects
11 line objects
50 textures
49 animated assets
50 songs
113 ambience loops
808 time-able and trigger-able sound effects
Update history
Second update (animated trees) 2019
Third update airship and new assets 2020
Usage rights

Ripping individual assets and art from this pack and redistributing them is strictly illegal, and we take active legal actions to protect these assets. However any maps you create with this pack within the Master's Toolkit come with a creative commons licence with Attribution meaning that if your map is a minimum size of an A4 preset in the toolkit, you can export and distribute or sell your maps, as long as you credit Arkenforge – The Masters Toolkit visibly on your product.
You are also allowed to stream your sessions using the software as intended – for your tabletop games. Using visuals/sound for a feature film/video/game requires a license from us, which you can obtain by reaching out to us on : zsdante@arkenforge.com.
Instructions
After purchasing this content pack, the Arkenforge Launcher will download the new assets upon starting. If the Arkenforge Launcher was on when a content pack is purchased, please restart the Launcher to update your Masters Toolkit with the new content.
If you experience any issues with with this content or the purchasing of this content you may contact zsdante@arkenforge.com