Encounter Map Pack 1 HDC
USD$4.99
The content pack cannot be used without the Master's Toolkit Software!
Author: Haigo Dungeoncrafts
DPI/PPI: 256 (Pixel per inch)
Map resolutions: 3072×4096, 4096×3072, 4096×2048, 4096×4096
License: Strictly personal use only, all rights reserved to Lloyd Haines.
Haigo Dungeoncrafts first Map Pack gives you an astounding collection of 4K resolution maps, from frozen lakes, to forest roads, to fungal caverns & more!
Each map comes in three forms; Without Grid, Hex Grid, & Square Grid.
See Below for more details!
Map Names/Features
● Cliffside Brook – This sloping map provides the perfect place for tiered level ambushes and winding paths for players to explore. Size – 30 x 40 tiles.
● Crystal Cave – Need to find a specific gem? Perhaps it lies hidden amongst the hundreds of crystals scattered around the floors and walls. Size – 40 x 30 tiles.
● Desert Oasis – Have you players been trudging on an arduous journey through blistering heat and scorching winds? Perhaps a lush green oasis is what they need, though who knows what else awaits. Size – 40 x 30 tiles.
● Docked Ship (Exterior) – Travelled to port to find a ship? Look no further than this small dock, come aboard and take to the seas! Size – 40 x 30 tiles.
● Docked Ship (Interior) – Need a place to rest your head? Cannons needed at the ready? Perhaps you just like sneaking around the smaller vessels at port? This interior shows you what the small, heavily armed vessels may actually look like. Size – 40 x 30 tiles.
● Forest Road – A glowing lake shines through the trees giving a warmth of hope to passers by on this winding road. Size – 100 x 50 tiles.
● Frozen Lake – The snowy banks of these icy waters leave trails of those who pass, but who owns the small fishing boat? And what are these strange berries growing near the lake? Size – 40 x 30 tiles.
● Fungal Cavern – Bioluminescent mushrooms litter the floors, walls, and roof of this otherwise dark and damp underground passage, but who knows what else may lurk in the shadows. Size – 40 x 40 tiles.
● Lava Bridge Altar – Across a river of flame and molten stone lies the great ritual alter thought to be used in the creation of and control of powerful undead. Size – 30 x 40 tiles.
● Noxious Swamp – Perhaps you could you use the map of a noxious swamp to impede your players with unseen dangers and poisoned pools of bubbling green water? Size – 40 x 40 tiles.
● Titans Rest Mountainside – Maybe the mysterious giant skull piercing the earth near a cliff-side road provides a wealth of intrigue to passers by. This map also comes with an Isometric grid version. Size – 40 x 30 tiles.
● Wrecked Tower Room – Stumbling through ruins from long ago, one may find rooms still intact, though decrepit and decaying, crumbling from the passage of time. Size – 40 x 30 tiles.
Sold By: Haigo Dungeoncrafts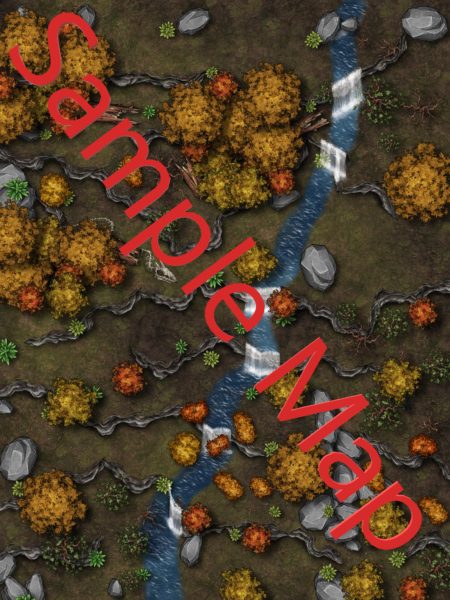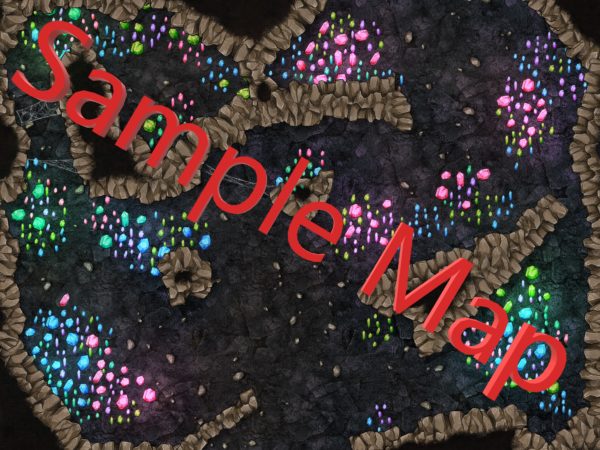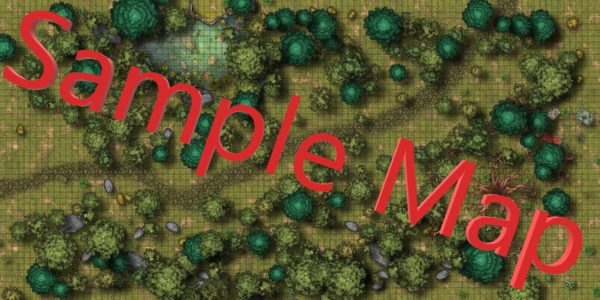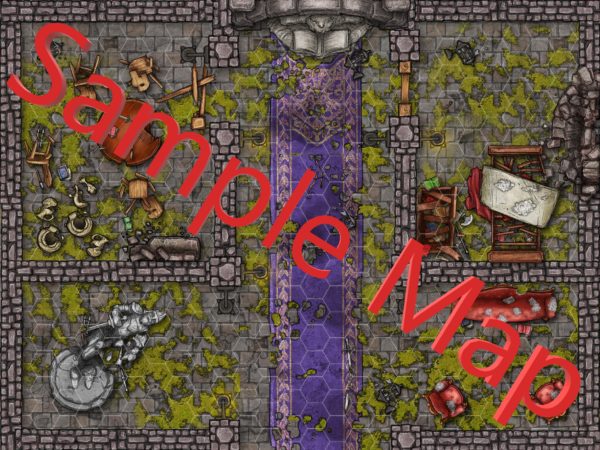 Only logged in customers who have purchased this product may leave a review.